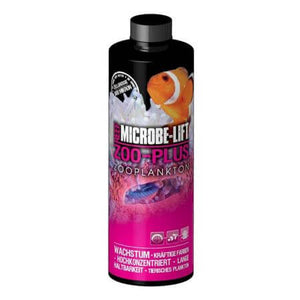 A Highly Palatable Reef Food for Filter Feeders. Size range 800 microns
A suspension of Mysis, Daphnia, Copepods, and Artemia
The ideal suspension food for filter feeding marine invertebrates as well as plankivorous fish
Rich in essential hufas, protein and beneficial biopigments shown to improve coloration in all marine life
Shake Well Before Using
Directions:
Shake well before every use. For every 50 gal. add 1-2 teaspoons (can be 1-2 capfuls on our 8 and 16oz. bottles) 1 capful/1teaspoon = 5mL. You can target feed (1 to 2 drops, 2 to 3 times weekly for each animal using a plastic syringe) or add to an area of high water flow. You can alternate with MICROBE-LIFT/Phyto-Plus A & B for a  more natural varied diet. You can adjust dosage depending on your tanks aquatic load. Always monitor water quality and do not overfeed. Refrigerate after opening.
MICROBE-LIFT/ZooPlus is produced under controlled aquaculture environments.
MICROBE-LIFT/ZooPlus is harvested under natural conditions, blended and packaged in our own laboratories.
Ingredients:
Mysis, Daphnia, Copepods, and Baby Artemia.
Guaranteed Analysis:
Crude Protein              0.20%
Crude Fat                       0.10%
Moisture                       99.60%
Ash                                     0.10%
Omega 3 Fatty Acids   0.01%
Cautions:
Keep out of the reach of children

Follow directions carefully

Avoid skin or eye contact. If contact happens, flush area thoroughly with cold water
This product is intended for use with all ornamental and aquarium fish but may not be used with fish intended for human consumption.