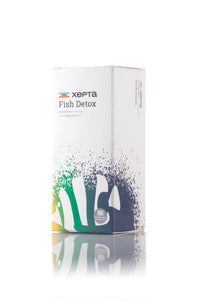 Description
Xepta Fish Detox is an innovative product that effectively neutralizes and removes toxins found in the gastrointestinal tract of fish. After the application of any type of treatment in a hospital aquarium or in the aquarium itself, it exerts a cleansing effect on saltwater fish, helping to stimulate general detoxification enzymes, thus helping the fish to recover.
Its formula is highly effective thanks to the use of patented encapsulation technology (HDB) that prevents the product from being diluted in the aquarium water and also releases the neutralizing actives in a totally controlled manner.
Due to its mucoadhesive characteristics, it adheres to the mucosa forming a protective layer that competes with the colonization of pathogens in the gastrointestinal tract of fish. The innovative technological base allows it to have a protective and neutralizing effect in the short and medium term.
This product is totally biocompatible and biodegradable, approved for use in food with high safety.
Contains: water, activated vegetable carbon, gelling agent, preservatives E211, E202 and E221.
Dose: administer as a preventive measure or after a treatment