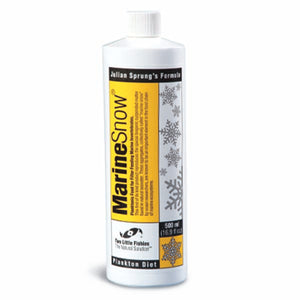 | | |
| --- | --- |
| * | Planktonic solution offers optimum nutrition for filter-feeding invertebrates |
| * | Special blend of ocean plankton and more to replicate "marine snow" |
| * | Recreates a natural feeding environment in home reef aquariums |
MarineSnow from Two Little Fishies is the first of its kind: a natural planktonic solution for filter-feeding marine invertebrates. This invertebrate food replicates the special biogenic suspended matter "marine snow" found in natural seawater. Marine snow is an important part of the food chain in marine ecosystems. Now it can be a part of home reef aquariums too! Contains natural components of marine snow, including zooplankton, phytoplankton, and particulate and dissolved organic material, and more to provide superb nutrition for filter-feeding marine invertebrates. 16 oz.
Ingredients
Deionized Water, Phytoplankton, (Nannochloropsis, Tetraselmis, Isochrysis, Spirulina, Schyzochitrium, Dried Seaweed Meal, Zooplankton, Citric Acid.
Guaranteed Analysis
Protein

min. 0.10%

Fat

min. 0.01%

Fiber

max. 0.3%

Moisture

max. 99.6%
Directions for Use:
Refrigerate after opening. Always shake well before dosing. Maintain strong water circulation in aquarium when feeding this product, but discontinue mechanical filtration and protein skimming for an hour after feeding. Add to a strong current stream for rapid distribution in water.
Feed at least one capful per 20 gallons, per feeding. Larger doses can be added by feeding several times per day, or continuously via a drip-feed system or peristaltic dosing pump. DO NOT mix with trace elements or other chemical supplements in a dosing reservoir. MarineSnow can be mixed in an aerated dosing reservoir with live phytoplankton, rotifers, or brine shrimp, and is a suitable source of food for brine shrimp. Frequent feeding will not cause build-up of excess nutrients.