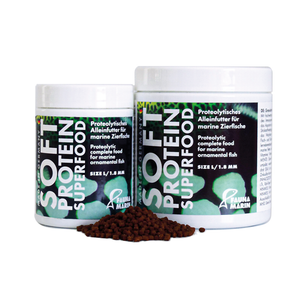 FAUNA MARIN SOFT PROTEIN SUPER FOOD – PROTEOLYTIC COMPLETE FOOD FOR MARINE ORNAMENTAL FISH
Fauna Marin Soft Protein Super Food – Complete feed for coral fish.
Granulated food containing proteolytic properties. Rich in protein and proteolytic enzymes,
this food provides fish with key nutrition for healthy growth and strengthened immune system.
Through the digestive process, the aquarium is also supplied with various organic nitrogen compounds which promote coral growth.
FEEDING RECOMMENDATION:
Feed small portions several times per day.
GRANULE SIZE:
M = 1,0mm L = 1,8mm
INGREDIENTS:
Whole fish and fish by-products, molluscs and crustaceans, algae, fats and oils, yeast.
ADDITIVES PER KG:
Vitamin D3 (E671) 600 i.e. TRACE ELEMENTS: Iron sulfate monohydrate (E1) 50mg, calcium iodate, anhydrous (E2) 2.2 mg, copper sulfate pentahydrate (E4) 6 mg, manganese sulfate monohydrate (E5) 17mg, zinc sulfate monohydrate (E6)120 mg, antioxidants 57 mg.
CRUDE INGREDIENTS:
Protein 72%

Fat 13%

Fiber 4%

Ssh 5%