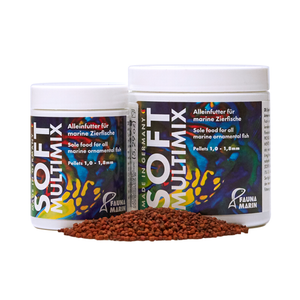 SPECIAL FEED MIXTURE FOR ALL TYPES OF MARINE ORNAMENTAL REEF FISH.
Soft Multi Mix: Complete feed for coral fish.
Special feed mixture with all Fauna Marin fish feeds for all types of marine ornamental reef fish.
FEEDING RECOMMENDATION:
Feed small portions several times per day.
GRANULE SIZE:
1,0mm – 1,8mm
INGREDIENTS:
Whole fish and fish by-products, molluscs and crustaceans, algae, oils and fats, yeast.
ADDITIVES PER KG:
Vitamin D3 (E671) 600 i.e.. TRACE ELEMENTS: Iron sulfate monohydrate (E1) 50 mg, calcium iodate, anhydrous (E2) 2.2 mg, copper sulfate pentahydrate (E4) 6 mg, manganese sulfate monohydrate (E5) 17 mg, zinc sulfate monohydrate (E6)120 mg, antioxidants 57 mg.
CRUDE  INGREDIENTS:
Protein 57%
Fat 17%
Fiber 1%
Ash 9%