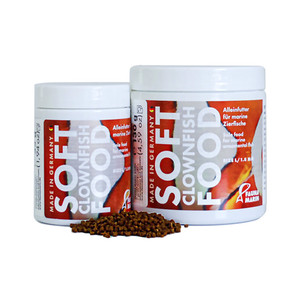 Fauna Marin Soft Clownfish Food for the perfect coloration and growth of all clownfish and damsels in reef tanks.
Fauna Marin Soft Clownfish-Food is specially formulated to meet the needs of anemone fish and reef fish.
A soft granulated food with extremely high nutritional and active ingredient content is closer to natural food than any other.
As soft as natural feed animals, it contains, among other things, high-quality marine proteins, vitamins and omega 3-6 fatty acids as well as over 1400 mg astaxanthin.
Best suited for all anemone fish, such as clownfish, reef fish and also for all other coral fish.
The colour development and resistance is significantly strengthened.
Fauna Marin Clownfish-Food contains no unnecessary fillers and is therefore very effective and prevents unwanted nutrient enrichment in the aquarium.
Marin Soft Clownfishfood consists of natural marine raw materials combined with high-quality additives which leads to colour enhancement and intensification of the colour contrast.
Especially the brilliance of the white colours is enhanced.
Some professional breeding farms in the USA and Europe use this food very successfully for their breeding and rearing animals.
FEEDING RECOMMENDATION:
Feed small portions several times per day.
Granule Sizes: "M": 1 mm, "L": 1,8 mm
INGREDIENTS:
Whole fish and fish by-products, molluscs and crustaceans, oils and fats, algae, yeast.
ADDITIVES PER KG:
Vitamin D3 (E671), 600 i.e. TRACE ELEMENTS: Iron sulfate monohydrate (E1) 50 mg, Calcium iodate, anhydrous (E2) 2.2 mg, Copper sulfate pentahydrate (E4) 6 mg, Manganese sulfate monohydrate (E5) 17 mg, Zinc sulfate monohydrate (E6) 120 mg. ANTIOXIDANTS: 57 mg.
CRUDE INGREDIENTS:
Protein 60%
Fat 14%
Fiber 1%
Ash 9%