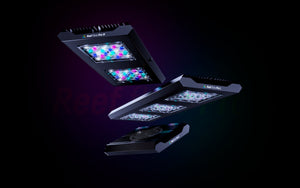 Reef Flare Pro has been developed from the ground up with two major objectives: Low profile and lightweight in design and the most powerful, efficient marine LED light fixture on the market. The new Reef flare Pro generates PAR up to 150% higher than the previous model and 40% higher than the competition.

The new light spectrum has been developed to bring out a vast array of colours in your corals and due to the power output, you will be able to view your corals with greater clarity. The most technically advanced LED light on the market, controlled from the enhanced Smart Reef app has one of the slimmest form factors at just 30 mm.


The Reef Factory team has worked tirelessly on every aspect of the light. From the electronics and the ultra-efficient cooling system to the specially selected LEDs and advanced optics. This has resulted in the most efficient LED light in
its class with high PAR, that is evenly distributed throughout the aquarium.
New refreshed interface panel - A new improved light management panel. Larger sliders, the ability to enter the % of each color channel. Also added, is the power slider bar so that when programming you can easily set the intensity of the light across all
channels.
Full spectrum, 7 channels of control and specially selected colour LEDs. Thanks to the combination of high-quality LEDs, corals will grow faster and display enhanced colouration- delighting even the most demanding marine aquarist.
72 effective LEDs
UV 400nm x6
Violet 420nm x6
Indigo 450nm x18
Blue 470nm x18
Green 530nm x3
Red 660nm x3
White 5700K x18
For the Reef flare PRO project, Reef Factory employed specialised optical designers with many years of experience in this field.
Understanding the needs of the marine aquarium hobby, they developed new optimal optics – Efficient Optics Illumination.

This specially developed light mixing technology makes it possible to provide the appropriate spectrum of light matched to the corals needs. What distinguishes our EOI optics is that they work with both white light and other spectra such as blue and UV.
The lenses equipped by Reef flare Pro fixtures provide a much wider area of coverage which is reflected in the PAR tests conducted. Thanks to EOI optics, light reaches the entire aquarium, blended and to the correct strength. By choosing the right model, in accordance with our recommendations, you can be sure that the entire area of your aquarium will be covered with light and in a way that provides ideal growth and colouration for your corals.

The effective light coverage Reef flare Pro L - 90 x 70 cm, the recommended height of the lamp is 30 cm above the

aquarium.

Dimensions - Height 30mm Width 160mm Length 465mm
240w
https://www.reeffactory.com/?state=productsReefFlareOverview