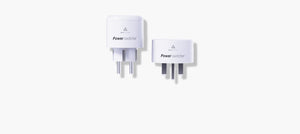 Reef Factory Power Switcher
The Power switcher
is a small, intelligent aquarium socket to which you can connect any device. Thanks to the Power switcher, you can program each device i acyclic switching off mode. What is worth noting, you can also turn the device on or off remotely in the Power switcher.
Programming, delaying and remote management of connected devices 
Our smart socket will allow you to manage lamps, pumps and any other devices. The Power switcher also has a delay function, which can be useful when working with a connected skimmer, which, after a power failure, will turn on with a set delay ( this will prevent the cuo with skimmate overflowing into the aquarium).
Tailored to your needs 
With customers in mind , the Power switcher has been prepares in two European versionsand in the UK standard. Both versions have the same functionality.
Manage a group of devices
In the Smart Reef app you can group and manage your Power switchers as one device. Thanks to this, you do not have to program many devices separately.


Connect your devices and make them smart
Thanks to our smart socket you can now connect all traditional aquarium devices and make them smart. Manage their work with the Smart Reef application, create relationshipa between their actions and control the moments of their launch.


Intuitive control panel wirh a clear desktop
The device can be controlled very easily and conveniently via smartphone app or via the Reef Factory website.


Work history of connected devices 
At any time in history, you can check when your devices were switched on and when they were switched off.
Even more clever possibilities 
The list of devices that should be connected to your aquarium with a Power switcher is long, and the device's capabilities will grow with each update. Thanks to the Action sectionyou can integrate the switcher connected via the Power switcher with another device.
No controller required
Alle verwendeten Geräte sind mit einem WLAN-Modul ausgerüstet und direkt mit dem System verbunden
 
Reef Factory Smart Reef - Ios and Android- App