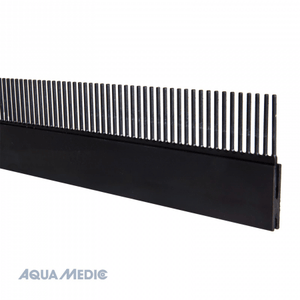 This overflow comb from the Aqua Medic brand contains extra long teeth. The holder can be glued to the aquarium or can be used together with the Combfix (not included). The overflow comb ensures an even water flow, which reduces noise nuisance and also prevents fish, parts of plants and coarser dirt particles from ending up in the overflow. The comb sits securely in the holder, but can easily be removed for cleaning and maintenance.
Length approx. 50 cm, height: approx. 8 cm, length of the tooth: approx. 3.7 cm
Options
With the Aqua Medic Combfix you can attach the overflow comb / Comb 50 to the overflow without gluing it to the aquarium.