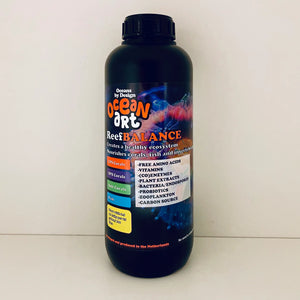 ReefBALANCE is a product developed with the latest knowledge and science of microbiological technology.
Specially selected bacteria ensure the creation of a good ecosystem in your marine aquarium. Within the starting phase of your marine aquarium, it is important to achieve an optimal biological balance in order to prevent or even combat problems such as algae growth and cyano.


For existing marine aquariums, this is a concentrated product that is also perfect for starting up a marine aquarium. This product contains carefully selected bacteria, probiotics, bacteria in the form of endospores, amino acids, vitamins, plant extracts, (co) enzymes, reeffuel. When starting a reef aquarium, we advise to dose Reef balance daily, but once a week is also possible. Waste materials will also be removed by Reef Balance. For a more powerful solution specifically for no3 and po4 we recommend Reef Fuel.