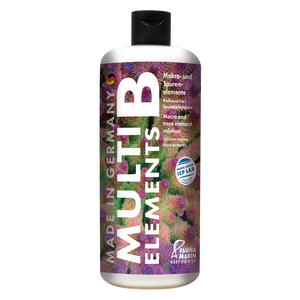 Multi ELEMENTS B
New trace element mixture based on organic and inorganic minerals and elements. When using lime reactors.
Is a special combination product specifically developed for use in aquariums with lime reactors and two-way systems.
With Multi Elements A and B the calcium reactor becomes a full supply system for a successful reef aquarium. Multi Elements A and B provide her with the macro and trace elements as well as organic micro substances needed in addition to the lime reactor material for a biologically healthy aquarium system. These highly effective elements prevent deficiency symptoms and ensure that all trace and micro substances are available in the optimum concentration. The result is colorfulness and vital corals.
Multi Elements A and B can also be used in systems supplied with pure calcium and carbonate solutions.
Multi Elements A contain elements responsible for coral skeletal growth, nutrient regulation and striking color formation.
Multi Elements B contains those substances and compounds essential for resistant coral tissue and strong polyps, as well as formation of fluorescent colors.