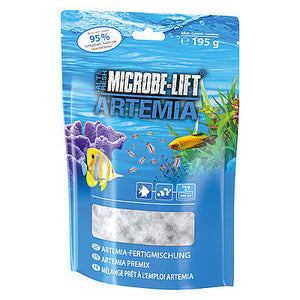 The buffet is open! Artemia provides your pets with fresh live food of the finest quality: the ready-made mixture of salt and Artemia eggs provides delicious, fresh Artemia crayfish in no time - ideal for feeding corals, lower animals and juvenile fish.
This live food promotes the healthy development of ornamental fish and corals, ensures colourfulness and visible vitality; for freshwater and marine cultures.
Dosage recommendation: Sprinkle 3 spoonfuls of Artemia ready mix into 500ml of water. Feeding can take place after 24 to 48 hours! Tip: The Artemia cultivation container is practical and recommended by the manufacturer.