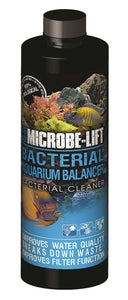 Introduces millions of beneficial bacteria into your aquarium ecosystem. The beneficial bacteria work to reduce organic waste on ornaments, gravel and filter systems.
Odor Free
For SALT & FRESH WATER
The bacteria is natural, non-pathogenic and will reduce the organic waste that fish release.
Prevents "new tank syndrome"
Helps to eliminate ammonia and nitrate
Provides rapid reduction of organic waste
Helps to clean power filters, ornaments and gravel
Helps to reduce fish loss
When adding new species to your aquarium always follow standard guidelines for the concentration of NH3 and NO2. The presence of ammonia and/or nitrates indicates tank over-crowding.
Available Sizes
1 fl. oz. (30 mL.) (BAB01) Treats up to 118 gal. (446 L.)
4 fl. oz. (118 mL.) (BAB04) Treats up to 475 gal. (1,798 L.)
8 fl. oz. (236 mL.) (BAB08) Treats up to 950 gal. (3,600 L.)
16 fl. oz. (473 mL.) (BAB16) Treats up to 1,900 gal. (7,200 L.)
1 gal. (3.785 L.) (BABG1) Treats up to 15,200 gal. (57,456 L.)
Cautions
Keep out of the reach of children
Follow directions carefully
Avoid skin and eye contact. If contact happens, flush area thoroughly with cold water
This product is intended for use with all ornamental and aquarium fish but may not be used with fish intended for human consumption.