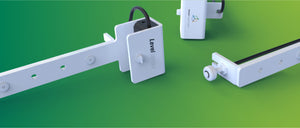 Modern smart devices - apart from the traditional functionalities offered by other products, deliver numerous improvements in aquarium management, ensure safety and give access to important information, safeguarding the health of the animals kept in your marine aquarium.

Level sensor - a device that monitors the water/liquid level and sends alerts in the event of any irregularity.

The sensor can be installed:

- in the sump - to protect the automatic refill system against damage and to prevent flooding and changes in the water salinity levels;

- in the Balling/Core7 liquid containers - if the Balling/Core7 liquids run out, you will receive a text/push/email notification directly to your phone;

- in the automatic refill system container - if the RO water runs out in the refill system, you will receive a text/push/email notification;

- anywhere you want to monitor the water level.

The device can be controlled via a phone or browser. The sensor can be connected to the Smart Reef system as a part of this comprehensive marine aquarium management solution.
https://www.reeffactory.com/?state=productsLevelSensorOverview