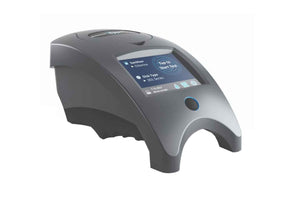 LaMotte WaterLink® Spin Touch®FX Photometer
The ultimate automated water analyser - The future of water testing 
"Every now and then a technology emerges that changes people's lives. For those who test water, that time is now." 
- David LaMotte, President, LaMotte Company

http://www.waterlinkspintouch.com/assets/lamottewaterlinkspintouchffbrochure.pdf
So Simple! So Fast! So Precise!
The innovative
WaterLink® Spin Touch™
photometer does all  your water testing for you wherever you need it!
Each sealed reagent disk contains the precise amount of reagent needed to run a complete series of tests in just 30 or 60 seconds.
Simply fill a reagent disk with a water sample, place it in the meter, tap "start", and all your vital tests are done automatically.
This is the most advanced system for precise use of wet chemistry methods ever produced! Now sea water analysis can achieve precision without time consuming test and clean-up procedures.
This ground-breaking analysis system is so simple anyone can use it!
No vials to fill, no prep time, no guessing!
Alkalinity
Ammonia (NH3)
Hardness
Nitrate (NO3)
Nitrite (NO2)
pH
Phosphate (PO4)
Reliable Results
Virtually Eliminates User-Error
Pre-Measured Reagents and Pre-Measured Sample
Exact Reaction Time and Auto-Blanking
Meter Calibration Check System
New 6-Wavelength Photometer
Super Fast & Simple
30 Seconds for 3-Test Disk, 60 Seconds for 10-Test Disk
Fill Disk and Insert > Tap "Start Test" > Read Results
Auto-Record Keeping
Stores Test Dates, Times, Results
Stand-Alone or Cloud Ready!
No Computer, Smartphone, or Tablet Needed
Touchscreen Operation
Communicate Through Bluetooth® or USB
New 3-Use Disk Cuts Costs
New 3-Use Disk for Free Chlorine, Total Chlorine (Bromine), Combined Chlorine, and pH—Results in 30 Seconds!
Meter Knows Which Test Section is New Test
Also Runs 10-Test Disks for Full Suite — Results in 60 Seconds!
Rugged and Portable
Innovative Water-Resistant Housing
Internal, Rechargeable Batteries
Optional Heavy-Duty, Waterproof Carrying Case
In-Store Testing
Fully Compatible with DataMate® 10 and DataMate® Web
Advanced Optics
Immune to Power or Computer Outages
(can still run tests and get results)
"Proven analytical chemistry has combined with Centrifugal Fluidics Photometry to create the breakthrough WaterLink® Spin Touch™"
Scope of delivery:
Photometer
Instruction Manual
Quick-Start Instructions
3 Syringes
Calibration Check Disk
USB Cord with USB Wall Adapter
In-Store Kit (counter mat, poster, window decal, etc
Note: Lab does not include WaterLink® Spin Disks, which are sold separately.
Technical specification:
Instrument Type:
Centrifugal Fluidics Photometer
6 Wavelenghts:
390 nm, 428nm, 470nm, 525nm, 568nm, 635nm
Display
Color Capacitive Touchscreen, 3,5", 320 x 240 pixel resolution
Languages:
English, French, Spanish, German, Italian, Portugese, Dutch, Swedish
Batteries:
Lithium Ion, Rechargeable (Full Charge in 6 hours), 100-150 tests per charge
Communication:
Bluetooth, USB-C
Calibration:
Factory Set, Field Calibration via Internet Connection
Data Storage:
Last 250 Test Results with date and time
Water Resistance:
Rubber over-molded base, rubber USB-Port Plug,
Gasketed Display and Hinge
Size & Weight:
8.5 L x 4.9 W x 4.1 H inches, 1.74 lb; 22.6 L x 12.7 W x 11.4 cm, 0.79 kg
Operation:
Single On/ Off/ Reset Button with Indicator Light, Touchscreen
Firmware:
Internet updateable (New Tests, New Test Calibrations, etc.)
Software (optional):
Android & iOS Apps, DataMate® 10
Printer:
Optional Bluetooth Printer (Code 5-0066); 384 dots per line at 8 dots per line at 8 dots/ mm resolution
Certification
CE

The Disks
10 Test Parameter Disks
Ideal for Service, In-Store, and Public Pool Testing


Test 3 Parameters, 3 times!
Ideal for Public Pools testing Chlorine and pH throughout the day


10 Test Parameter Disk Series
Four different Spin Disks Ideal for Service, In-Store, and Public Pool Testing.

3 Parameters, 3 Times!
Ideal for Public Pools testing Chlorine and pH throughout the day.

Test Free Chlorine, Total Chlorine (Bromine), Combined Chlorine (calculated), and pH in 30 Seconds!

Cost Per Test Over 50% Less Than Single-Use 10-Way Disk

Meter Knows Which Test Section is New Test