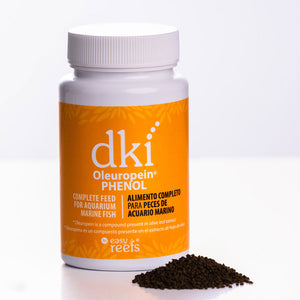 Oleuropein (OLE) is a phenolic compound that is found in all parts of the olive tree, mainly in the leaves. In the search for natural, safe, selective and low environmental impact treatments to combat fish diseases, several studies have shown the suitability and efficacy of OLE against different pathogens.
For example, hemorrhagic septicemia virus (VHSV), a salmonid rhabdovirus that infects inland and marine farmed fish, as well as a wide range of wild marine species worldwide, causing huge economic losses every year . OLE has been shown to inhibit VHSV infectivity in vitro, thus it is considered a lead compound for the design of potential therapeutic agents for other rhabdoviruses and/or enveloped viruses.

In addition, olive leaf extracts, as a source of OLE, have been shown to be effective when supplied in the diet against bacterial infections such as: i) Yersininia ruckeri, inducing the positive regulation of key genes involved in the stimulation of the response immune, such as TNF-α, IL-8 and IL-1β, and ii) Edwardsiella tarda, increasing the survival rate and improving the immune parameters of fish, revealed by the significant upregulation of IL-1β and TNF-α. Finally, the direct anti-inflammatory properties of OLE include downregulation of: i) iNOS and COX-2, two key inflammatory markers, and ii) IL-1β and IL-6, two critical proinflammatory cytokines.