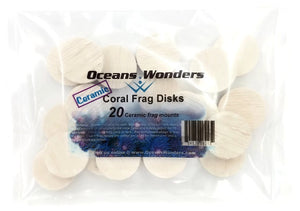 Oceans Wonders Ceramic Coral Frag Disks are perfect for the propagation or fragging of hard and soft branching corals such as Acropora, Birdsnest, Montipora, Kenya Trees, Xenia, ect.  They are 1-1/4" in diameter 
and 5/16" thick.
  Ceramic frag mounts are fired at nearly 2000 degrees in a high temperature kiln making them 100% inert and safe.  They never have to be cured and are shipped dry, ready to use.
  Each package has detailed usage instructions on it as well making them great for resale.