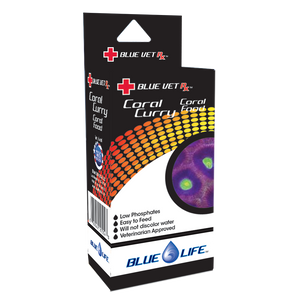 A balanced marine powdered food formulation that supplies the nutrient requirements for corals, some fish and inverts that is very low in phosphates:

Ascidians (sea squirts)
Bivalves (clams)
Cnidarians (corals, anemones, jellyfish)
planktivorous Crustaceans (crabs, shrimp)
planktivorous Holothurians (sea cucumbers)
Poriferans (sponges)
Sedentarians (tube worms)
planktivorous Teleosts (bony fishes)
Easy to use powder formula allows you to mix what you need or pre-mix and store for up to 10 days! Pre-mix with water, either purified (e.g. RO/DI) for refrigerated storage of up to 10 days, or with system water if feeding within 12 hours. Begin with 100 g product : 500 mL or 16 fl oz. water, and add water or product to achieve desired consistency. Broadcast feed mixture to cohort, or target feed individual specimens if preferred. Component Analysis Crude Protein (min) 33.3% Crude Fat (min) 22.9% Crude Fiber (max) 17.0% Moisture (max) 7.0% Ash 6.3% Selenium 1.9 mg/kg Coral Curry provides: twenty-one essential amino acids; thirteen major, minor, and trace elements; omega-3 and -6 HUFAs (19.6 mg/g and 0.2 mg/g, respectively); fourteen vitamins; 302 mg/kg beta carotene. Completely free of: – preservatives; – pH stabilizers (acids); – fillers; – terrestrially-grown or -sourced components, including garlic derivatives; – yeast; – Artemia cysts; – animal byproducts; – isolated hormones; – artificial colors.