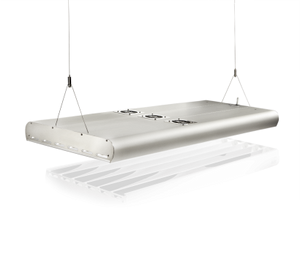 PERFORMANCE MEETS DESIGN
With the power module ATI offers a T5 luminaire that convinces in the performance. Made of high quality materials, combined into a noble design, the power module is an absolute highlight.
Special reflector material in connection with an active cooling system represent an unbeatable achievement team. By this it is able to leave the T5 tubes work at their optimum temperature range.
NOBLE DESIGN COMBINED WITH BEST PERFORMANCE
With the ATI Power Module you receive both in one unbeatable package. All assembled components such as electronic ballasts, best reflector material and other come from well-known brand manufacturers.
You can get the power module in 4-, 6-, 8- or 10-flame in the wattages 24 W, 39 W, 54 W or 80 W obtained. All lamps of this production are equipped with 2 independent current cycles, giving you the opportunity of crosswise control the T5 fluorescent bulbs.
YOUR ADVANTAGES
Splash guard made of Plexiglas covers the whole area under the lightining fixture to protect tubes and reflectors
High-quality electronic ballasts from brand manufacturers
Optimum reflectivity by high-tech reflectors
Timeless design made of anodized aluminum
Even as a dimmable version (1-10V)
Long service life through active cooling
One fan per pair of tubes