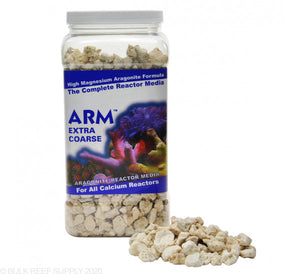 ARM Coarse Reactor Media contains calcium, carbonate, and trace elements.
Nearly 50x the Strontium of other brands (7390ppm)
Precision grading allows for maximum carbon dioxide penetration
No gastropod shells mean the lowest phosphate content (less than 1/10th of 1ppm)
The highest solubility of any reactor media (metastable at 8.2)
One of the most trusted media for calcium reactors in the industry. The media is a complete solution which includes both calcium and carbonate as well as essential trace elements. 
The media comes in two forms Coarse and Extra Coarse.
Coarse

 

– larger size granules which are less likely to clog equipment.
Extra Coarse

 

– Largest size granules and the least likely to clog equipment which results in the lowest maintenance option.
Note: All ARM media is packaged by volume in a 1-gallon container. Weights may vary from container to container, but on average one gallon will yield 8 - 10 pounds of media.