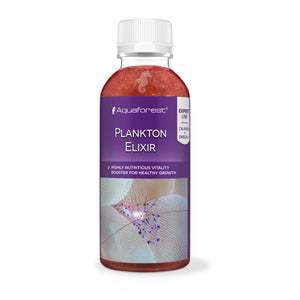 AF PLANKTON ELIXIR – liquid feed for fish, corals & invertebrates
AF PLANKTON ELIXIR – liquid feed for ornamental fish, corals and invertebrates.   
Thanks to the high content of saturated omega-3, EPA, DHA and SDA fatty acids, astaxanthin and carotenoids, it has a great impact on the correct growth of fish and invertebrates, giving them beautiful coloration. It strengthens resistance to stress, disease, facilitates proper molting of shrimp and other invertebrates.
COMPOSITION:   Calanus finmarchicus, Mysis relicta, voda, antioxidant.
Analytical ingredients:   Protein: 19,60%, fat 8,0%, ash: 2,0%, fibre: 0,65%.
 DOSAGE:   We recommend feeding in small portions once a day.  Once opened store in fridge.
 Product intended for aquarium use only. Not suitable for human consumption. Keep away from children.