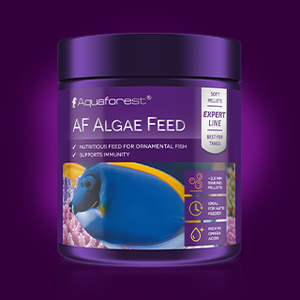 Excellent pellet feed for ornamental herbivorous fish, especially Tangs. It allows for proper development and resistance to disease. AF Algae Feed is made up of 7 algae varieties. In addition, it has been fortified with phytoplankton, minerals and vitamins to form a complete balanced diet for all types of fish. We recommend feeding in small portions several times a day. Product intended for aquarium use only. Not suitable for human consumption. Keep away from children.
Ingredients: fish and fish products, cereal products, soy, fish oil, vegetable oil, alfalfa, algae, spirulina, yeast, antioxidants.
Additives: vit. A 7600 IU/kg, vit. C 190 mg/kg, vit E 152 mg/kg, vit. D3 500 IU/kg, iron 45.6 mg/kg, iodine 3.8 mg/kg, copper 3.8 mg/kg, manganese 15.2 mg/kg, zinc 45.6 mg/kg.
Analytical components: crude protein 35.7%, crude fat 13.7%, crude fiber 0.76%, crude ash 7.0%, moisture 33.2%.